To celebrate edding's 50th anniversary we created the
Wall of Fame
– an online drawing board where you can draw and illustrate alongside other users in real time. You can find inspiration, leave comments and share every drawing via social networks.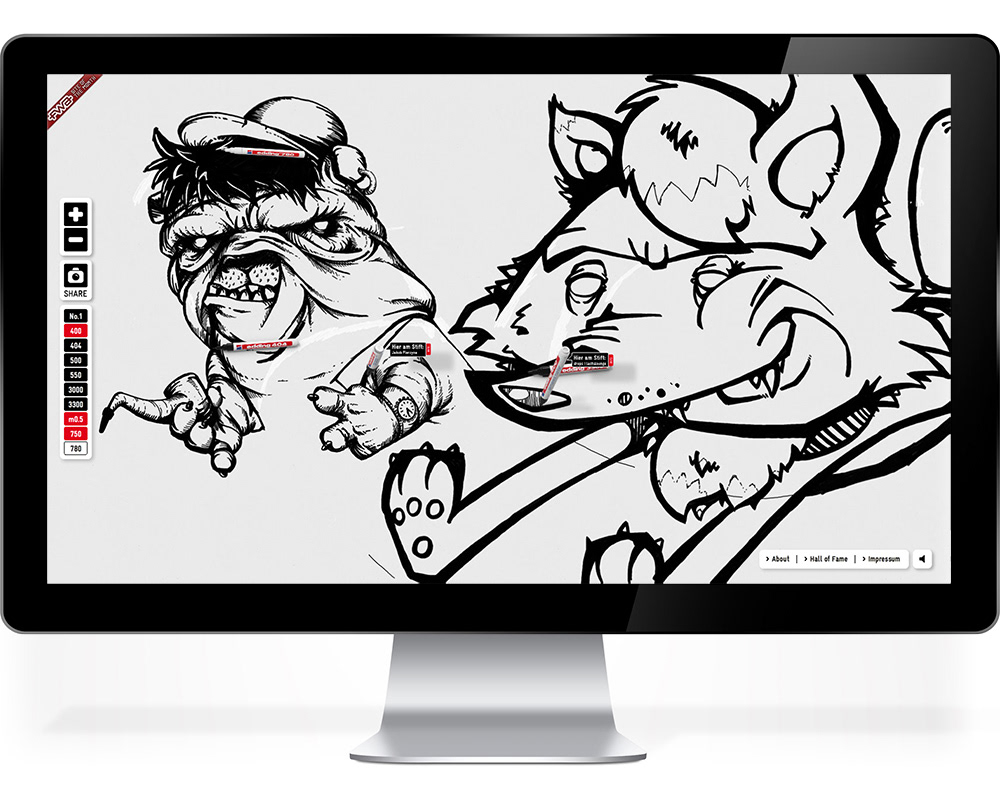 There were eight different edding markers available on the site. If they were used by someone else, you had to wait. But that wasn't boring at all: It was fun just to watch other people drawing and to comment their work.
Since edding pens are permanent markers, all drawings stayed on the site forever. We expanded the board from time to time to make space for more creativity.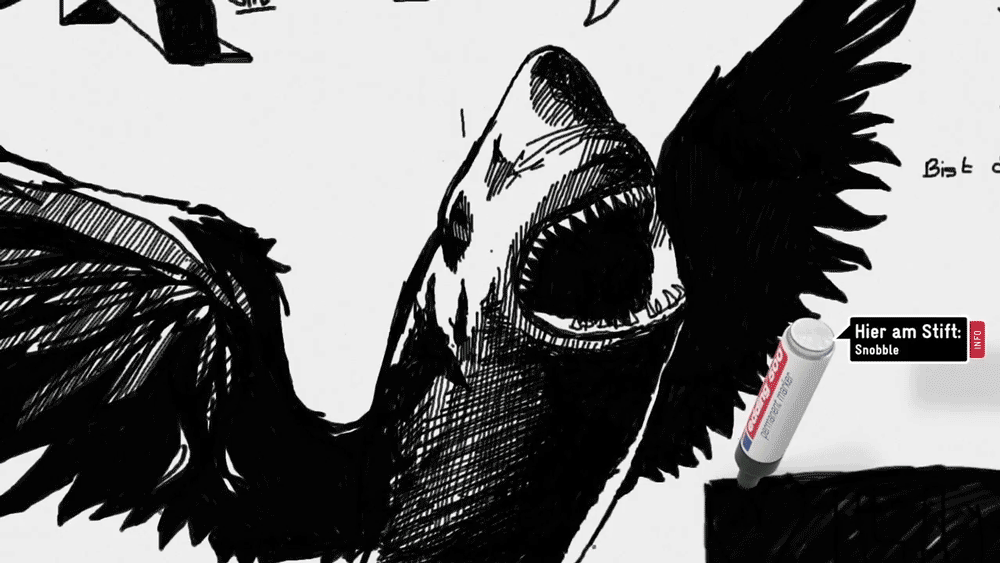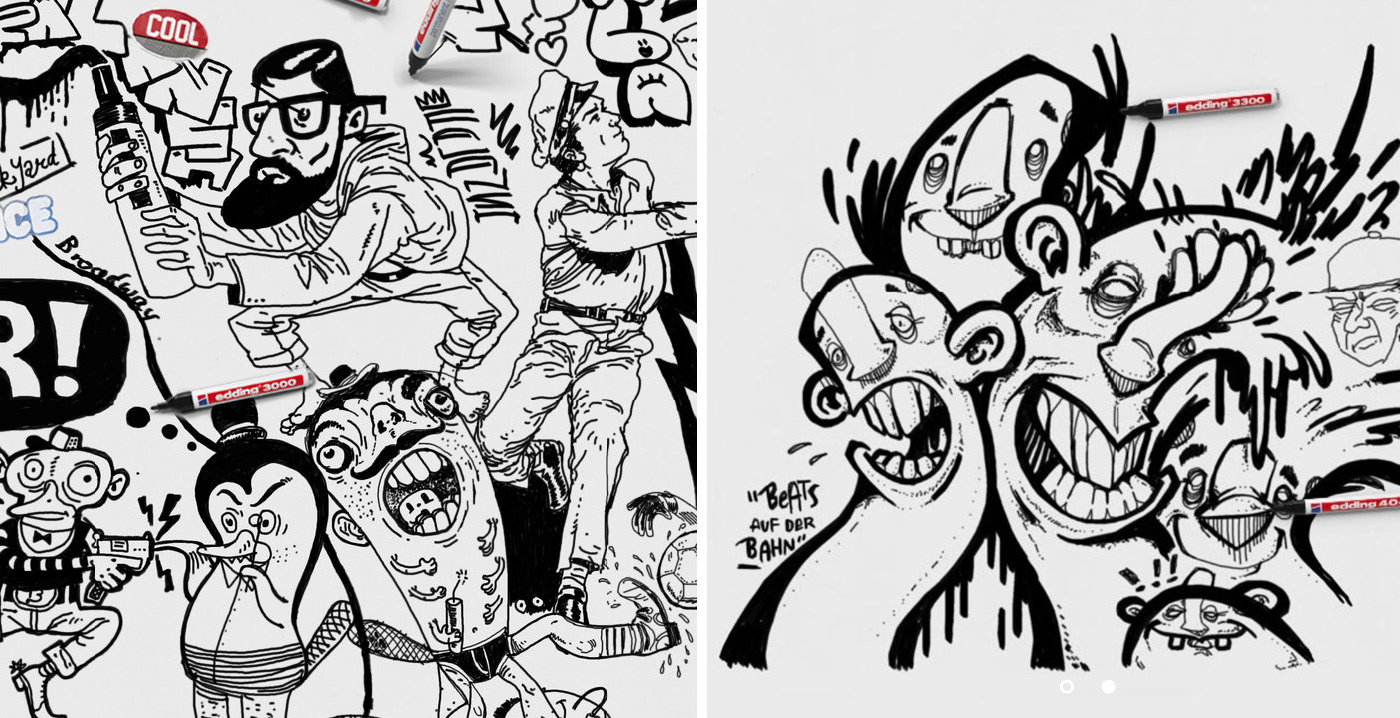 Guest appearances of international artists turned the wall into a stage and a live event: Outdoor projections meant that their work could be followed live – not just online but also in the real world. Also the users were invited to show their skills in realtime competitions.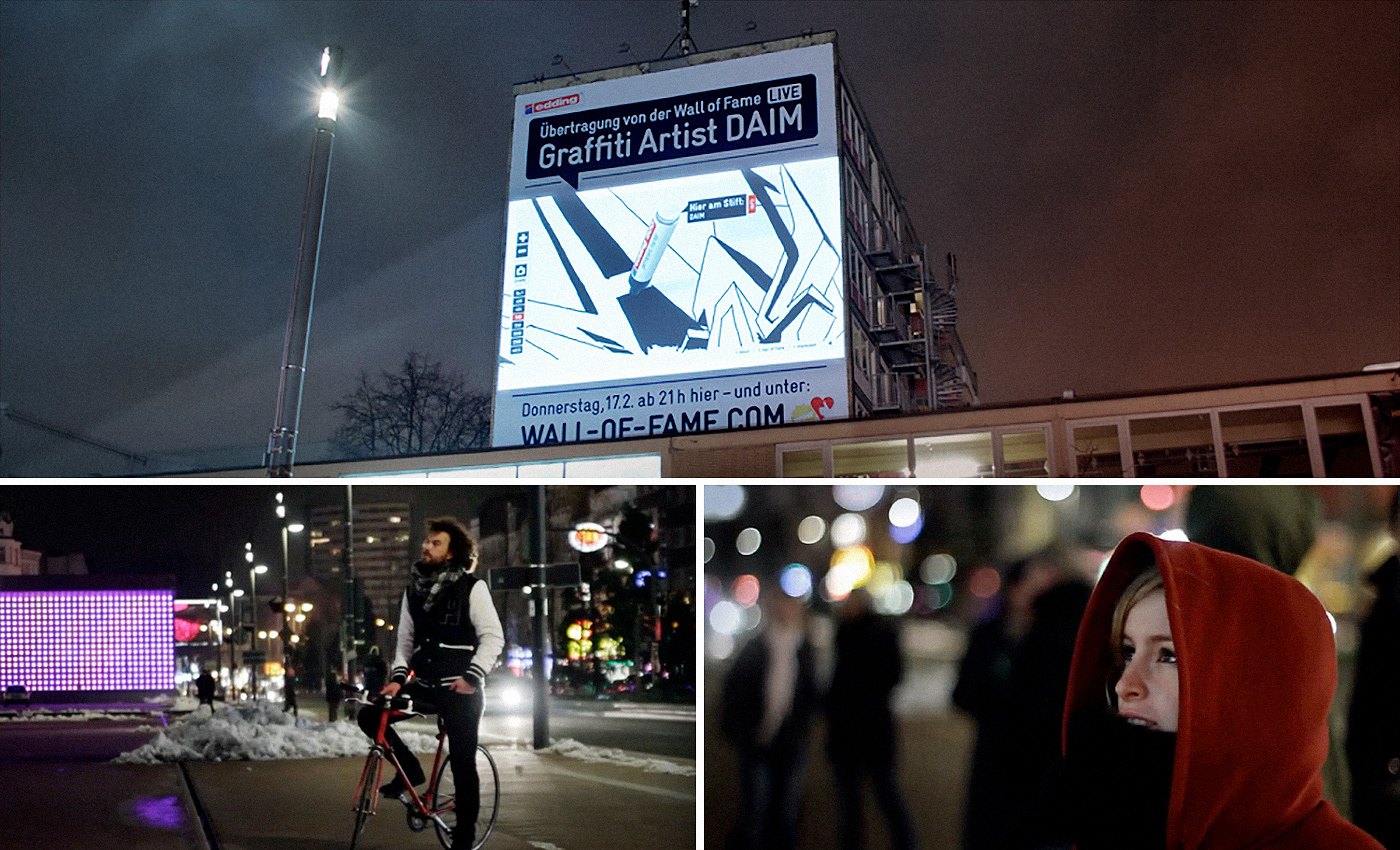 In the first month alone, a collaborative piece of art was created consisting of more than 240,000 drawings from people in over 100 different countries. The
Wall of Fame
was online for many years and grew into a giant collection of people's thoughts and their creativity.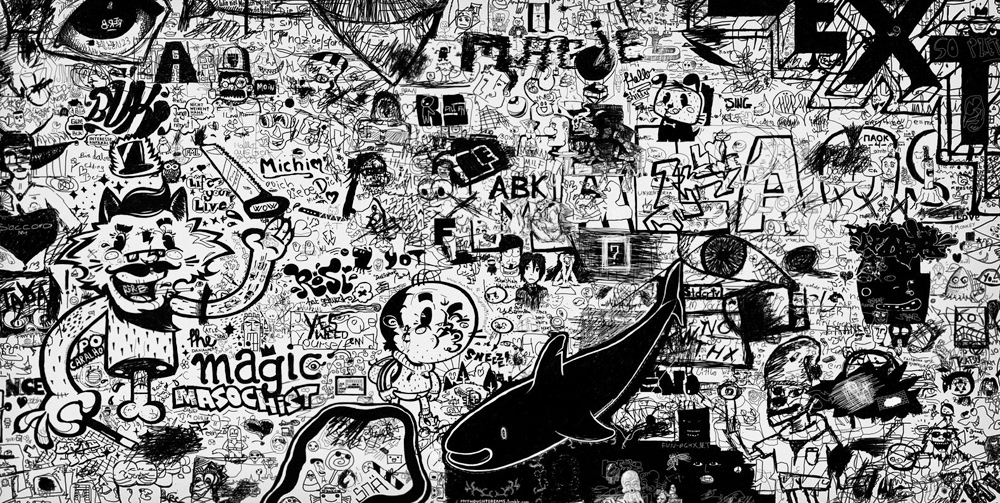 It turned out that the
Wall of Fame
 was a great dialogue platform for edding. The users wrote comments about the product and about the Wall. They asked us for white eddings.
So we added the
Nr. 750
and
780
which was both: fun and a nice product promotion.
We designed the interface very activating to get more people drawing. The main navigation was done with the eddings. For everything else we used bold black and white elements combined with colourful stickers which users could glue on their favourite drawings.
This was one of my most interesting projects so far because it was so multifaceted. We had to think about the concept, the user experience but also about CGI of the pens, the sound, illustrations and much more. I was glad that we had a great team around us.

CREATIVE CREDITS


Creative Direction: Simon Jasper Philipp, Christoph Gähwiler,
Stefan Walz, Gerrit Zinke, Christian Fritsche
Art Direction: Simon Jasper Philipp, Stefan Walz, Florian Schimmer
Copy: Christoph Gähwiler, Samuel Weiß, Michael Götz
Graphic: David Scherer, Tobias Lehment
Flash-Design/Coding: Alexander El-Meligi
Backend-Coding: Florian Wögerer
3D-Animation: Liga01 (Sehsucht)
Produced by: kempertrautmann & demodern
Agency: kempertrautmann
AWARDS


Cannes Lions 2011: 2 Gold Lions, 2 Silver Lions, 5x Shortlist
Eurobest 2011: 2x Gold, 3x Silver, 8x Shortlist
LIAA 2011: 2x Gold, 1x Silver
Cresta Awards 2011: Grand Prix (Interactive), 2x Finalist
ADC of New York 2012: 1x Gold
ADC of Europe 2011: 1x Gold, 2x Shortlist
ADC Germany 2011: 1x Silver, 3x Bronze, 1x Merit
D&AD 2012: 1x Nomination, 1x In Book
Golden Award of Montreux 2011: 2x Finalist
Epica 2012: 4x Silver, 2x Bronze
Red Dot Award 2011: 2x Best of the Best, 1x Red Dot
Mobius Awards 2011: 3x Mobius
One Show 2012: 1x Gold, 2x Bronze, 4x Merit
IF communication design award 2011: 1x Gold
The Cup 2012: Best of Craft
New York Festivals 2012 2x Bronze, 5x Certificate
ddp 2012: 1x Gold, 1x Silver
Annual Mutlimedia Award 2012: Gold
Der Pixel 2012: Silver
DMMA 2012 1x Gold, 1x Silver, 1x Bronze
FWA Awards: Site of the Month, April 2011
Webby Award 2012: 1x Nominee, 2x Honoree Certificate
New Media Award 2012: Gold
​​​​​​​