For the launch of the new Audi A8 we developed the Audi Test Drive Cube. It's a small black box made of Audi materials like aluminium, LEDs and an original start/stop button.
We sent the cubes directly to the exclusive Audi A8 target group.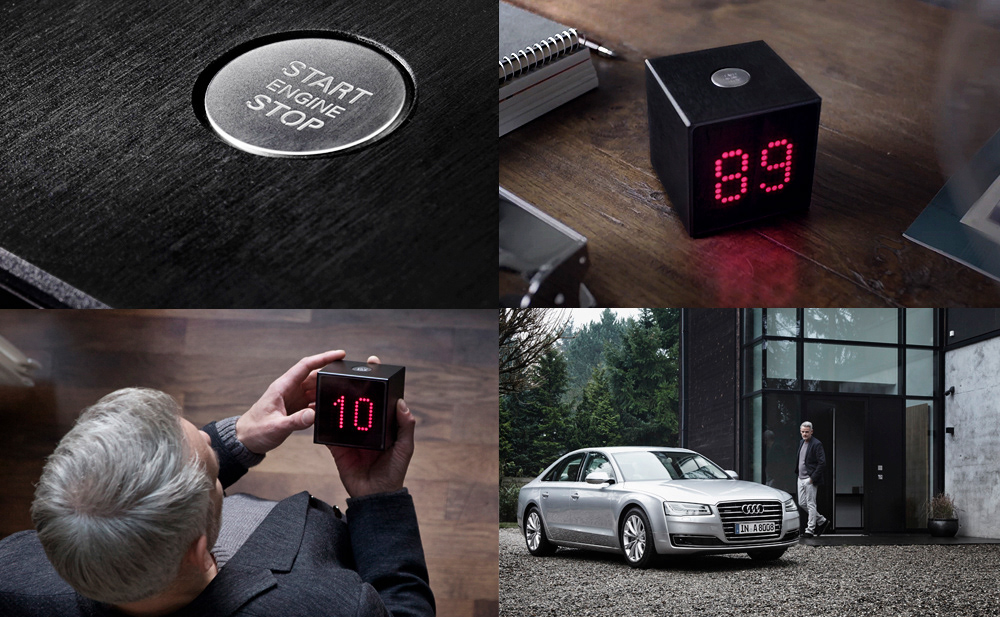 One push and a 90 minutes countdown started. In the background – a GPS signal was transmitted and the Audi A8 was sent to the customer in 90 minutes. For a 24h test drive.
The campaign did both, selling cars and attracting a great deal of international attention. One more proof for the claim of Audi:
Vorsprung durch Technik.
​​​​​​​
The roll out of the campaign was not only a technical challenge. Also the logistics were quite important. The customers were asked to return the cubes after use so Audi was able to refurbish and reuse the devices. 

CREATIVE CREDITS


Executive Creative Direction: Diether Kerner
Creative Direction: Simon Jasper Philipp
Art Direction/Design: Nic Winkelmann
Copy: Tobias Schröder, Adrienne Tonner
Production : Nerd Industries, CMP
Film Production : Markenfilm Crossing
Photographer : Daniel Wolcke
Agency: Philipp und Keuntje, Hamburg
AWARDS


Cannes Lions 2014: 2 Silver Lions
Eurobest 2014: 3x Gold, 1x Silver, 2x Bronze
ADC Germany 2014: 1x Gold, 3x Bronze, 1x Merit
ADC of Europe 2014: 3x Silver, 1x Merit


Clio Awards 2014: 1x Gold, 1x Silver




London International Awards 2014: 1x Gold, 1x Bronze 




New York Festivals 2014: 2x Silver, 1x Bronze


One Show 2014: Merit


D&AD 2015: Graphite Pencil


Deutscher Digital Award 2015: Gold
DDP 2015: 1x Gold, 1x Silver, 1x Merit