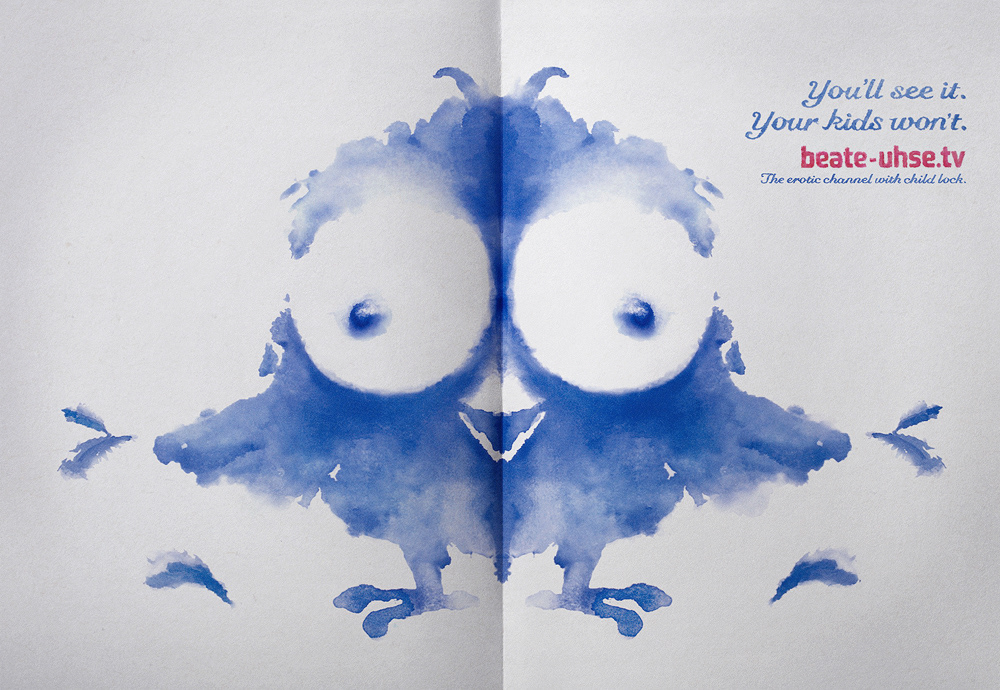 We wanted to promote the child lock function of
Beate Uhse TV.
Starting point was the tagline 
"You'll see it. Your kids won't."
While creating the campaign we were inspired by the psychological ink blot test invented by Herman Rorschach. The campaign was rolled out in print, on billboards and on YouTube where it went viral.
CREDITS
Creative Direction: Mathias Lamken
Art Direction: Simon Jasper Philipp, Mathias Lamken
Illustration: Simon Jasper Philipp, Marita Locmele,
Christian Endres, Mathias Lamken
Photography: Jan Burwick
Music: Thomas Kisser
Director: Martin Hess, Ole Peters
Animation: Heinrich Löwe, Felix Geremus
Martin Hess, Hans-Christoph Schultheiß
Production Company: Sehsucht
Agency: kempertrautmann


AWARDS
Cresta 2009: Winner
Epica Awards 2009: 1x Silver, 1x Bronze
NY Festivals 2009: 2x Bronze
One Show 2009: Finalist
Golden Award of Montreux: Finalist
LIAA 2009: Finalist