Aktion Mensch is Germany's largest private fundraising organization in the social field, divided in a social lottery and the educational department. The aim of the educational campaigns is to take the topic of inclusion public in order to change the image of people with disabilities in our society.

For our campaign we invited people with and without disabilities to participate in a casting for TV commercials for the Aktion Mensch social lottery – but none of the performers knew, that the casting was already the film shoot for the educational campaign. That situation led to authentic and very surprising encounters between the participants. The result is a very touching film that proves: Encounters of people with and without disabilities can enrich our lives – if we give it a chance.
The film was starting point for an integrated campaign to promote the idea of inclusion and the social lottery for Aktion Mensch. 
The two TV commercials for the social lottery were actually shot with four of the casting attendants afterwards. They also appeared in print ads for the lottery and content formats that were created for social media.

The film was sent to 2.800 schools across Germany – and sometimes it was even accompanied by one our protagonists to enrich the discussion in class.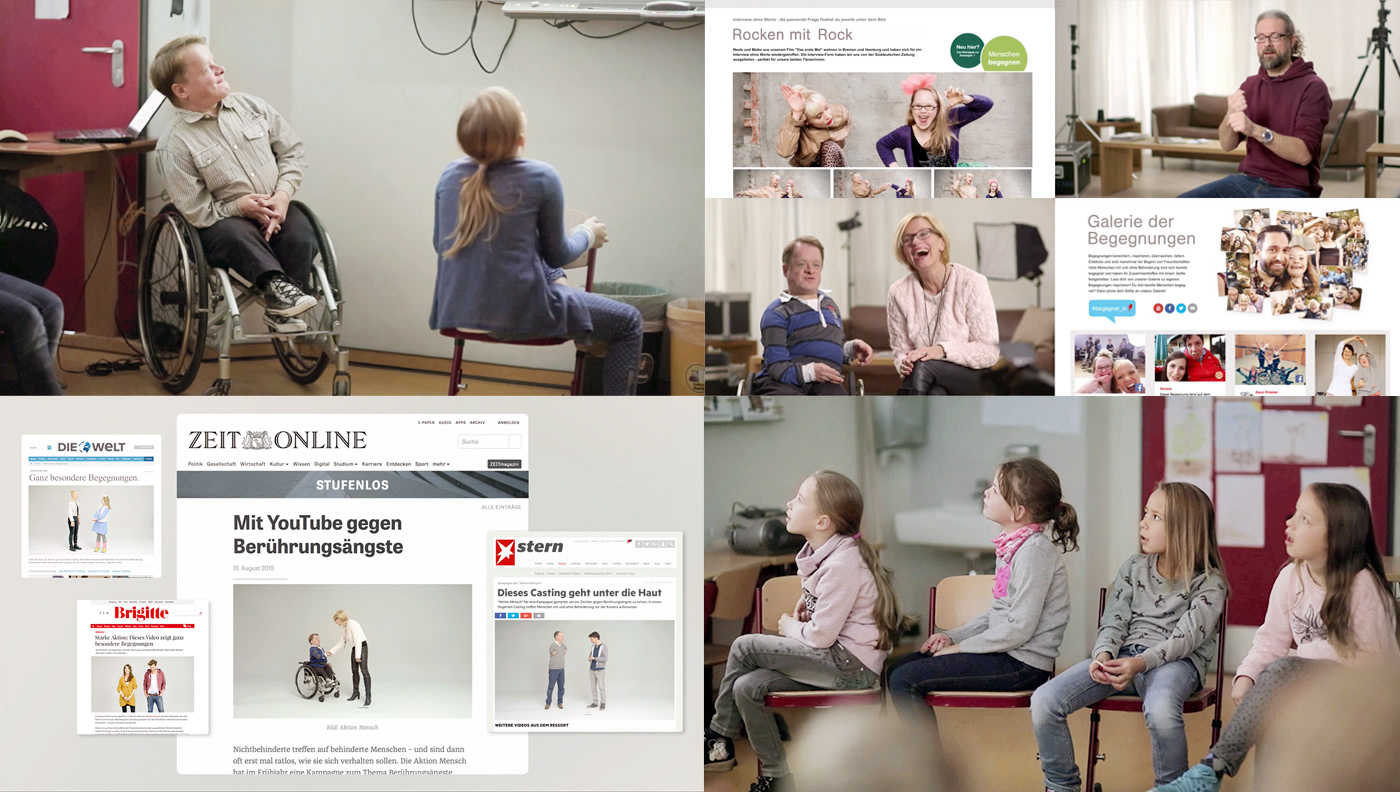 Lots of people participated online and offline. Numerous media picked up the topic which created quite a momentum. The result: Our campaign became one of the most discussed in Germany. Aktion Mensch and the idea of inclusion got a lot of attention. 
CREATIVE CREDITS
Chief Creative Officer: Stefan Wübbe
Executive Creative Directors: Rolf Leger, Oliver Ramm
Creative Directors: Simon Jasper Philipp, Florian Ludwig
Copywriter: Sascha Petersen
Art Director: Nadine Nolting
Director: Jan Hinrik Drevs
Production: Tempomedia, Bey-Bey Chen-Rönz
Music: Sizzer Amsterdam
Agency: Kolle Rebbe, Hamburg
AWARDS
ADC Germany 2016: 3x Silver, 3x Bronze, 3x Merit
Effie 2016: Silver
Die Klappe PR 2016: Gold
Die Klappe 2016: Bronze
New York Festivals 2016: Shortlist
Cresta 2016: Finalist
Deutscher Digital Award 2016: Shortlist
DDP 2016: 1x Bronze, 1x Merit